Advertising in the cinema
For almost six years, Apollo Kino has offered professional ad services and has become a unique media channel for various companies.
Apollo cinemas are located in Estonia's largest shopping centres, visited by tens of thousands of people who seek entertainment, quality time and new experiences. The cinemas are undoubtedly the most popular leisure places there and are the heart of the shopping centres regardless of the time of year. The largest cinema operator in Estonia welcomes film friends at 10 cinemas and 39 screens across Estonia. In shopping centres with the highest foot traffic, we offer the best quality in Europe as well as a large ad space for our partners to shine.
Cinema ads have become an effective tool for many enterprises. Our cinemas are visited by all age groups, from toddlers to the elderly, depending on the movie. It is incredibly easy to find your target audience – simply pick a film that is relevant to your target audience and suits your product.
Let your ads shine at Apollo!
Apollo cinemas offer plenty of ad opportunities, which guarantees that you can find one suitable for you. In addition to 39 screens across the country, there are many screens in open spaces, spaces for digital posters as well as opportunities to hold tastings and other special solutions.
There are plenty of options! To find a suitable marketing solution, ask for a quote here: info@megameedia.ee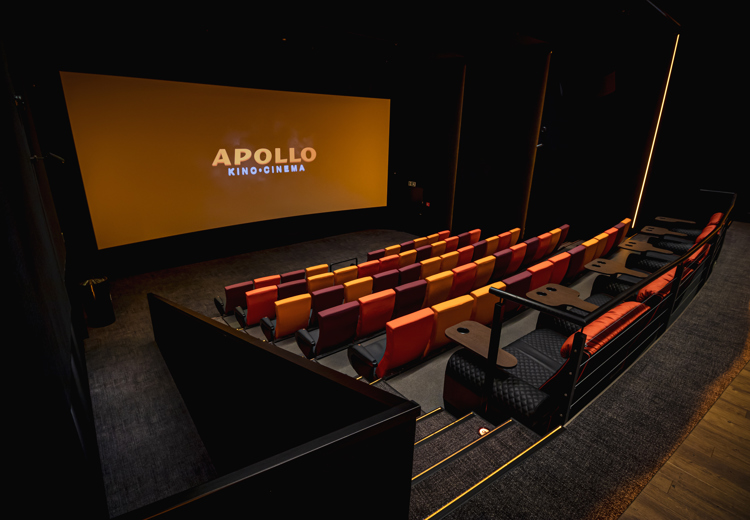 Overview of ad spaces:
Ads on the big screen (39 screens):


Apollo Kino Solaris – 7 screens (Solaris shopping centre)
Apollo Kino Mustamäe – 6 screens (Mustamäe shopping centre)
Apollo Kino Kristiine – 1 screen (Kristiine shopping centre)
Apollo Kino Lõunakeskus – 6 screens (Lõunakeskus shopping centre)
Apollo Kino Pärnu – 3 screens (Pärnu shopping centre)
Apollo Kino Astri – 3 screens (Astri shopping centre)
Apollo Kino Saaremaa – 2 screens (Auriga shopping centre)
Apollo Kino Eeden – 3 screens (Eeden shopping centre)
Apollo Kino Ülemiste – 6 screens (Ülemiste shopping centre)
Apollo Kino Jõhvi – 2 screens (Pargi shopping centre)
Ads on internal TVs (77 TVs). Internal TVs are located in all public spaces of Apollo cinemas across the country. Internal TVs support clips with sound.
Ads on digital posters (241 posters). Digital posters are located in all public spaces of Apollo cinemas across the country and support pictures or videos without sound.
Sharing product samples in cinemas
Presenting and sharing product samples at cinemas
If you have another interesting idea or vision regarding your ad solution, let us know at info@megameedia.ee